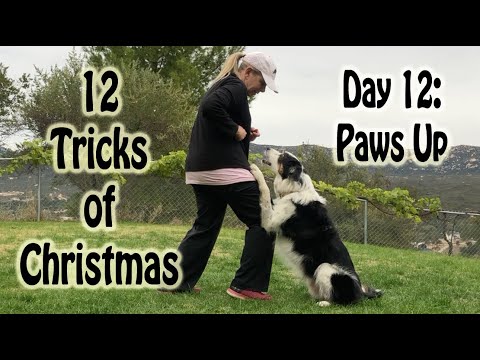 Pam's Dog Academy Website: http://www.pamsdogtraining.com
Extra helpful videos by either myself (Pamela Johnson) or Kikopup (Emily Larlham), that will help you train your dog to do tricks.
Clicker Training Basics: https://youtu.be/omZt5Eu8nfE
Paw Targeting:
https://youtu.be/z-8vi448OHE



Shaping Paws up on a platform: https://youtu.be/2ceugqDb4t0
Spin: Fade the lure https://youtu.be/wXr0VYN-OQc
Back up at a distance: https://youtu.be/zLVCkzaBDqM
Distance Tips: https://youtu.be/Kr-lVzck0oY
Back up – Chair Method https://youtu.be/tapajhjsCxY
Cop Cop: https://youtu.be/eHWuFb9Lb4Q
Bow: https://youtu.be/pT7-CHam2HU
Leg Weave:

101 ways to Leg Weave: https://youtu.be/rGn5aK_BPhI
Heel Work Foundations: https://youtu.be/6Nz1a_lYbxs


Back Chaining a routine: https://youtu.be/GkpkRb70HGk
I sell a Back Chaining DVD on my website that will teach you many behaviors you can train using back chaining… Agility, Tricks, and Everyday behaviors…
pamsdogtraining.com and go to my products page.
Combining Tricks: https://youtu.be/XRJsbIZNC44
Connecting, Mirror Image, and Contrasting: https://youtu.be/EkB9VLd4VA0
Don't forget to subscribe and turn on your bell to find out when I post new videos. Feel free to comment and ask questions. I am always happy to help.
What you will find on this channel… Dog training tips, Canine Conditioning, Clicker/Marker training, "How To" train dog trick tutorials as well as "How To" videos on helping dogs with behavior problems.
Check out my playlists for Leash walking games, Recall training games (Play-N-Train Recalls), Rock Solid Stay games, Rehabilitation/canine conditioning, and so much more.
Visit my website for a FREE organized video list, articles, online classes, and dog sports video titling opportunities.
Have a great day with your dog, today and every day!
Pam, Isabelle, Bandit, Twix, Wynnie, and Honey