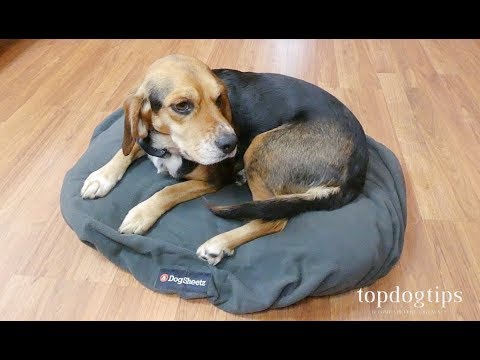 Have you tried to wash a dog bed that doesn't have a removable cover? It can be a real pain to try to stuff a bed into the washing machine. Whether you dry the bed in a machine or leave it out to air dry, it'll never go back to its original shape. A DogSheetz Waterproof Dog Bed Cover saves owners the hassle of trying to wash the entire bed. Read the full review here: https://topdogtips.com/dogsheetz-waterproof-dog-bed-cover-review/
The DogSheetz Waterproof Dog Bed Cover comes in a few different sizes. The company claims that their covers offer a universal fit for any shape, style or brand of dog bed. What did I think of the product? Do our dogs enjoy sleeping on their DogSheetz? I'll tell you all about it in this detailed product review.
"When you do need to clean the cover, it's machine washable. They are made of 100% polyester. The sheet feels like a soft fleece material. As Molly demonstrates in my video review, our dogs really love curling up and snuggling in on these bed covers."