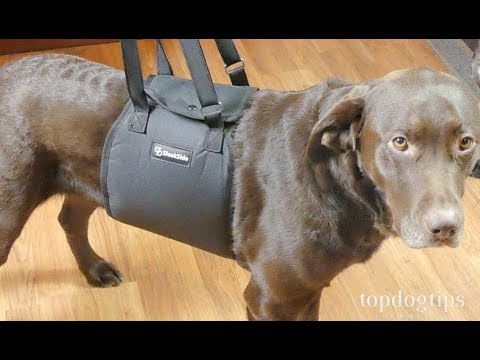 A rear leg sling for dogs may be a necessary part of caring for your pet sometime in the future. Whether your aging senior needs a little help standing up after a nap or your young dog has had surgery requiring you to help him up stairs, a sling makes it much easier to help Fido get around. The SleekSide dog lift sling is safe to use and comfortable for your pet. Read the full review here: https://topdogtips.com/sleekside-dog-lift-sling-review/
When you're shopping for a sling, you should be focussed on quality, size and comfort for your pet. It should be the right size for your dog and made from materials that are sturdy enough to hold his weight. Of course, the sling also needs to be comfortable for your dog.
"My Labrador, Saddie, weighs about 75 pounds. This sling holds her comfortably and is strong enough to allow me to lift her without any problems. It's very easy to put on and take off in just a few seconds. Saddie doesn't seem to mind wearing it at all."